When should you replace your heat pump?
There are a lot of things that can go wrong with a heat pump system, like the age of your heat pump, how efficient your heat pump is, and if your heat pump is worth repairing. So how do you know when to throw in the towel and upgrade or when should you stick in there and keep fighting? Here are a few things to consider when you need to make this decision.
Less than 5 years 
Your system is most likely still under the manufacture parts warranty. There is usually no need for replacement in the first 5 years unless there is significant damage caused to the unit not covered by the warranty.
Less than 10 years  
If your equipment is less than 10 years old, it is usually worth fighting to keep the system going. There are two exceptions both of which we will go into further detail below. If your system requires a major repair or your system is still a Freon (R22) system, you should replace your system. Simply put, if you have a R22 and a medium or greater repair, many parts for R22 systems are no longer available and an appropriate repair for your system may not even be possible. However, R410a uses more durable parts making them much better at absorbing and releasing heat.
Over 10 years 
The average life span for properly installed and maintained heat pumps in this area is 12-15 years. As experts of more than 20 years, we've seen anything from entry-level equipment, poorly installed last less than a year to lightly used but well-maintained heat pumps in use for up to 30 years.  If your system is over 10 years old, it is worth looking into a heat pump repair. It is much more likely that you will need a major repair and have to replace your equipment. Simply having a heat pump estimate can help you budget for the replacement. We would recommend a replacement for any system with a major repair and most systems with medium repairs.
Over 15 years 
If your heat pump is over 15 years old, consider yourself lucky. You have outlived the average life expectancy! At this point, it is worth seriously considering replacement even with a minor repair. We will also strongly recommend a full system replacement on any medium and major repairs.
Should you repair your heat pump?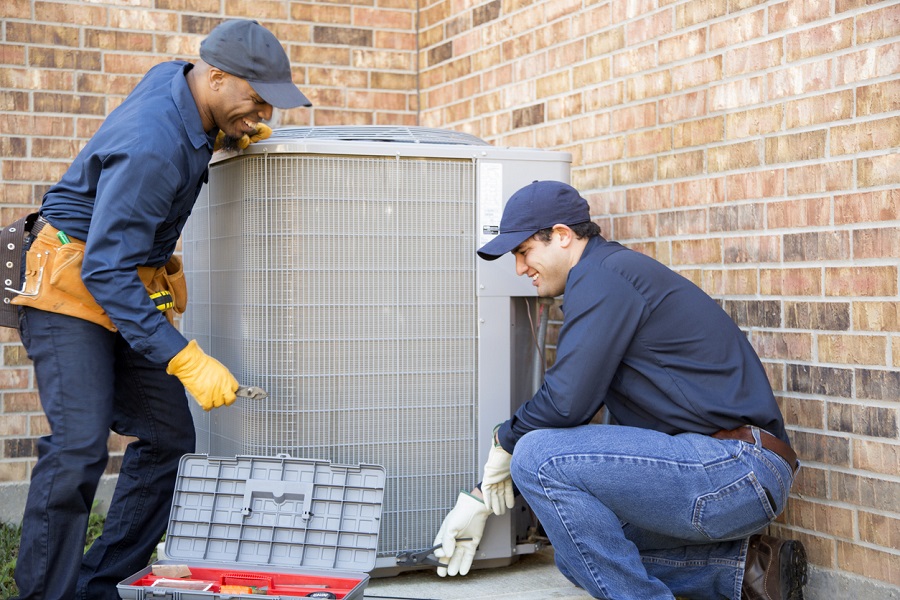 Minor Heat Pump Repairs
Minor repairs on heat pumps include components and repairs that will typically cost less than $500 to complete. These include capacitors, contactors, wiring among other repairs. Unless the system is R22 or over 15 years old these repairs are usually worth having done. However, it is possible that once these repairs are done other larger repairs may be found. Most of the larger components will not function if these parts break. This is why we recommend not doing these smaller repairs on much older equipment. Many times we have completed minor repairs only to find a major repair was required.
Medium Heat Pump Repairs
Medium repairs on heat pumps include components and repairs that typically run from $500 up to $1500 or more to complete. These can include motors, control boards, heating elements, and valves among other repairs. If your heat pump is less than 10 years old it is usually worth having done. However, much like with minor repairs, it is possible to do a medium repair and still discover a major repair. This is why once a system is over 10 years old we recommend considering replacement if a medium repair is found.
Major Heat Pump Repairs
There are only three major components in a heat pump. These repairs can run from $1500 to $3000 or more. The three components that comprise major repairs are the indoor evaporator coil, the outdoor condenser coil, and the compressor. If any of these three components fail outside of the system's warranty it is recommended to replace the entire system. The failure of any one of these three components can cost up to half of what it would cost to replace the entire system. The repair of these components in no way reduces the cost of a future replacement should another major component fail as all three components will be replaced when you get a new heat pump.
How efficient is your heat pump?
SEER – Seasonal Energy Efficiency Ratio
SEER is a relative number the represents how efficient a system can be. The higher the number, the more efficient the system. Much like gas mileage in a car, this number represents how efficient a system can be under ideal circumstances. Improper use and maintenance can and will lower efficiency.
10 Years ago it was normal for 10 SEER systems to be installed. Most of these systems are no longer running good as new. Currently, the minimum system that can be installed in our area is a 14 SEER. Upgrading from an older 10 SEER to a new 14+ SEER can give you serious savings in electricity.
Getting ready to sell your home?
Why replace your system if you are going to sell it? We get asked this question a lot.
A lot of home buyers and realtors are very savvy these days. If the house has a dated heat pump or a heat pump in need of repairs, they will either ask that the system be replaced before sale or credit be given towards the purchase of a new system.
Therefore, if you are thinking of selling your house in the next 5 years and your system is at least 10 years old, you should consider updating your system. We have never heard of a situation where a well-maintained system under 5 years was asked to be replaced by a buyer. On the other hand, it is very common to hear requests for systems over 10 years old to be replaced before sale. Instead of dealing with aging equipment for the next few years only to have to replace at the time of sale, replace it now and enjoy the energy savings. Some warranties will even transfer to the new owner. Contact us for more information.
How can Loving Air help?
Free second opinion on major repairs.
If another licensed HVAC professional has told you that your indoor evaporator coil, outdoor condenser coil or your compressor needs to be replaced, we will send one of our trained technicians out at no charge for a free second opinion and free estimate for repair.
Free estimates on system replacements.
Whether or not your current system is in need of repair we can send out one of our managers at no charge for a free estimate for replacement.
Affordable payment plans.
Loving air offers multiple payment options for system replacements.
Customer Reviews
A great service today! Thank you for coming to our rescue. After many different experiences with places we felt like did not serve us, we were THRILLED with your honest assessment of the situation, how quickly you identified the issue, and fixed it quickly, without just trying to sell us a whole new system. We will definitely be using you again!
- Victoria McCollum, Fredericksburg, VA
Great company!!! These guys have helped me out several times with my AC unit. Their emergency service is a life saver. James is always kind, courteous, and attentive. Thank you!
- A Edward, Fredericksburg, VA
These guys do great work! Make sure you ask about their membership plan, it's worth it.
- John Lapke, Fredericksburg, VA
Our honest service includes:
Maintenance and troubleshooting of your system
Work on all makes and models
Fast and dependable service
Use dependable parts
Examples of HVAC products that we service:
Natural Gas and Propane Boilers
Ductless HVAC Systems
Gas Furnaces
Warm Air Furnaces
Heat Pump
Unit Heaters
Monthly Maintenance Program
Guaranteed Same Day Service
15% Off on Repairs
Discounted Diagnostic Fee of $49 (usually $99)
We Contact You to Schedule Maintenance Visits